www.ExactingEditor.com/AndreaScharaCD.html

AUTHOR PROFILES 2008:
ANDREA M. SCHARA (Darien, CT)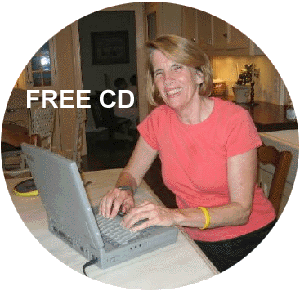 Since 1976, Andrea Maloney Schara has been associated with the Georgetown Family Center, founded by the legendary Dr. Murray Bowen. Her forthcoming book will show how leaders develop and tune their skills in early family relationships -- yes, the last place the typical management guru thinks to look. They are missing a great deal.
I have worked with Andrea since late 2003 to produce audiodiscs that are part of the manuscript's research. Which is why you won't find a traditional text interview here. This entire Author Profile -- my discussion with Andrea -- is on a CD, available to you at no cost. Since the book is a collaborative venture, and stories are best told in sound as opposed to print, we thought: Why not use an audio product to bolster the manuscript's research and writing?
With nearly three decades of experience in "family systems theory," Andrea is recasting "leadership." She has found that leaders "get to where they want to go by recalling where they came from," building on the core strengths developed in their families of origin. Nothing mechanical, and no group-minded norms to learn.
Andrea's website explains: "Visionary leaders might not be on the front page of your newspaper. Instead these leaders may be your neighbors. They might be lawyers, musicians, or the head of your children's school or the individual who runs the police department. But these are people who have learned how to gain strength from relationships around them. They keep learning by being mindful and having the humility to learn from errors..."
"Since 1976 I've been listening to stories as a professional, and investigating how families produce leaders. Each person's story was like a gold mine. I knew the value was there, but finding an efficient way to dig it out required some thought... How did this person gain strength in relationships?" Two traits were always present, she found, and always relevant: "The first is mindfulness, or the awareness of what is happening both internally and externally; the second is trial-and-error leaning. Both are needed to interact successfully with reality..."
If you're doing genealogy, navigating a family business transition, or are an "HR pro" in search of new strategies -- you will enjoy our audiodisc. You might even have something to contribute to Andrea's research. Just e-mail your name with a complete company or home street address to AudioHistory@aol.com.
-- Frank Gregorsky, www.ExactingEditor.com

Update from Andrea Schara
Books have their very own life course, distinct from that of the writer. So here is what has developed since "www.ExactingEditor.com/AndreaScharaCD.html" went live in the summer of 2005...
I finished the manuscript in March of '07. Though happy the book had been "born," I realized the task of selling it would be frustrating for a mostly introverted writer. I sought to open myself up to unorthodox ways of finding credible help.
A few months later, seemingly by coincidence, the completed manuscript went to Mexico and Maria Bustos, who introduced it to Heberto Ruz, publisher, and Francisco Gonzalez, the director of USEM -- see www.usem.org.mx. They took the book seriously and agreed to publish it. They also arranged for me to come interview leaders in Mexico.
By this point, the book seemed to want a new name. Thanks to help from friends new and old, it has ended up being called The Mindful Compass: Navigating through the Social Jungle for Fun and Profit.
In January of 2008, I went to Mexico for a week, returned in March for another week, and then five more days in May. So far I have interviewed 11 men and 11 women. Eight will be picked for the first book. You can read their stories on my site -- www.ideastoaction.wordpress.com
This manuscript had no master plan, apart from my three decades-plus commitment to family systems theory. The research, interviewing and writing was a process of discovering more about the roles of culture and family influence in how people become leaders. People were willing to be open and said it was a good exercise because it enabled them to see the bigger picture.
In a funny way, people learn by communicating what they know. The way I see it, people might not have thought about their life in such a connected way; but, once they listened to their words, they understood, at a deeper level, how their lives had been shaped by social situations.
Although I often feel like the woman from Mars, understanding a new culture, my goal was always to provide a learning space: "If I learn something from you, then perhaps you will learn something from me" (Murray Bowen, M.D.). The people are fantastic, with real courage to tell their story about what has been important, and how they continue to adapt to the twists and turns of life.
Change can be a lovely dance or a series of interesting failures. Both processes enable leaders to understand how systems function. During good times and bad, being mindful is the best way to lead.
I encourage you to visit www.ideastoaction.wordpress.com and watch the book come to life; or if you have any questions, write me at Arms711@aol.com.