www.ExactingEditor.com/MyrnaOakley.html
Author Profiles 2007:
MYRNA OAKLEY (Fairview, Oregon)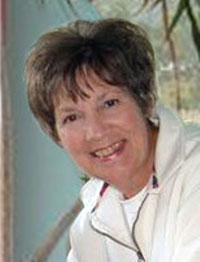 A lifelong Oregonian and former teacher, Myrna Oakley is both writing coach (novelists included) and travel writer. She became an expert on bed & breakfasts, and went on to craft multiple editions of Off the Beaten Path for both her state and nearby Washington. "I do all my own photography and I prepare and give slide talks on my book projects as well." Recently she became editor of www.HaveChildrenWillTravel.com, definitely worth a look if you are a parent wanting your kids to appreciate this amazing U.S.A. In April I visited Myrna not just to explore Oregon, but also to learn about the mechanics of putting together a travel guide. The resulting Q&A is a great mix of geography, commerce, innovation and escapism.
Background: At Portland State University, Myrna majored in elementary education. She became a teacher because it beat the alternatives (nursing, clerical work) that were open to females pre-1965. In 1970 she returned to PSU and earned a Masters in Teaching. During her final couple of years with the Portland Public Schools, Myrna exchanged the classroom for a position as Head Teacher at Sacajawea Elementary School; her duties included managing the school's small library. It was in the early 1980s that she decided to become a free-lance writer. For a conversational account of these early decades and her formative literary influences, see
Part One: From the Classroom to "Beating" New Paths
MYRNA OAKLEY: In 1980, I left Portland Public Schools. Moving south to Eugene, I cut some ties with Portland, apart from teacher friends and college and high-school friends. This was the major transition to free-lance writing. My husband Norm was very supportive of my doing that.
FRANK GREGORSKY: Yet we're still a decade away from the first edition of Off the Beaten Path Oregon. So you would spend the 1980s producing other things.
OAKLEY: Correct. My first book came out in 1984 -- Bed & Breakfast Northwest. The publisher was Solstice Press and Chronicle Books. A writer friend, Kathy Smith, introduced me to the publisher, Ivar Nelson. Kathy was already working on another project and didn't have time to do the B&B book. Ivar came over from Moscow, Idaho; we met and chatted; and he hired me for the Bed & Breakfast Northwest project.
As B&Bs grew even more popular with travelers, we decided to do a second edition, which came out in 1987; the first edition actually made the Top Ten regional list. Then another writer friend, Marilyn McFarlane (this was around 1988), led me to Globe Pequot Press and the Off the Beaten Path series editor. Marilyn was working on another guidebook and couldn't take on a second project at the time. I chatted with the editors by phone and got the contract to do the Oregon book in their Off the Beaten Path series.
GREGORSKY: The genre was already established?
OAKLEY: Yes, Globe Pequot, in Connecticut, had started that series sometime in the late 1970s; they needed regional writers to expand the series to all 50 states. By the late 1980s, they had published between six and a dozen.
It wasn't just the B&B beat that set the stage for Oakley's travel reportage. Back in 1969-70, Oakley and fellow teacher Dale Brown had taken their two 7th-grade classes -- some 47 students -- on a series of field trips around Oregon. Brown was the chief organizer, Oakley obtained a tangible sense of all things Oregon, and the kids often earned money ahead of time to defray trip costs. Oddly, not one of those students has encountered Myrna in the 37 years since. "Of course, I had a different last name then; I was Mrs. Wickstrom. Unless they really dug in and read my guidebooks -- and came across those sidebars where I share those Faubion Elementary School field-trip experiences -- I think there would be no connection."
OAKLEY: I developed the manuscript for the [first] Oregon book from ground zero.
GREGORSKY: But you probably didn't have total freedom. Didn't Globe Pequot give you a model or template?
OAKLEY: Yes, but it was a very simple template -- nothing like these newer editions [she's holding up the 2007 book]. There were no sidebars. It was just all text, in a geographically arranged "trip" throughout the state. In those early editions, authors were asked to choose their top picks for each geographic regional chapter. These picks were bold-faced in the narrative. Now, all the locations are bold-faced, or at least most of them are.
GREGORSKY: So it's 1990, and you have a computer. No Internet and no e-mail, though. Talk a little bit about the mechanics of going out, making choices, gathering data -- the phone numbers and other nitty-gritty -- for the very first "OBP" book on this state.
OAKLEY: Because of the research for the two bed-&-breakfast books already published, I had a fairly extensive research network -- Oregon and Washington were already part of my writer's beat. The B&B books also included southern British Columbia, southeastern Alaska, and very northern California. In each geographic region, I had my "key bed & breakfast innkeepers" to reach out to as I started researching beyond B&Bs. These innkeepers helped a great deal.
And because of those field trips with the 7th-grade students some 20 years earlier, I had already been introduced to central Oregon -- the wonders of central Oregon. It was very easy to get more in-depth into the natural history. My research network got deeper and wider for each of the eight geographic regions in Oregon.
And here, Frank, I'd like to say something about research.
GREGORSKY: By all means.
OAKLEY: Number One, if a publisher is working on a series like this -- covering the whole country, state by state -- it's extremely important to find local writers who live in that specific region or state. The publisher will get much more "inside" information that way. Local writers can more easily find the local people who can give you solid information. I'm talking about local people both inside and outside of the Chamber of Commerce loop.
GREGORSKY: Right.
OAKLEY: The second thing is to try, as much as possible, to access primary research, rather than secondary research. When you actually go out into the field yourself, tramp through the woods, walk through the public gardens, stand by the edge of the lakes, photograph the waterfalls, and meet the local people -- that is primary research. Secondary research is when you go only to the Chamber of Commerce or the Visitor Information Center, pick up hundreds of brochures, and then do your research only from those sources.
GREGORSKY: Um-hmm.
OAKLEY: I didn't do that. The primary research came first -- in order to get the best possible information, the fun inside details about a place, for the reader. And the third strategy is finding local people who can help you research their area or region.
Part Two: Outside of the Chamber, Music and Melodies
To find the local "historian," Oakley explained in a later e-mail, she looks for volunteers at the local Visitor Information Centers or at the local historical-society museums. "Sometimes it's a woman like Babs from Prairie City; she was in her nineties and just as sharp as a tack. Sometimes it's a shopkeeper or café owner or someone at the historical-society museum. Most of the time, they love to talk. And I either take notes or pull out a little tape recorder with those miniature 30-minute tapes." (She means microcassettes, folks; and they're still a lot more reliable than portable digital recorders.)
GREGORSKY: Certain contacts go back to the B&B networking, and they could cite other people that you could get to know.
OAKLEY: Exactly. Innkeepers like Melody and Judi, for example, who know everything there is to know about the Mount Hood Recreation Area. I always kept a lot of open space in my travel itinerary -- for serendipity to happen. And I always found the people that I needed to find. If I had let just the Chamber of Commerce put my itinerary together --
GREGORSKY: [Appreciative laughter]
OAKLEY: I probably never would have found some of those local folks. As you can tell, I'm not a huge fan of "FAM" trips. FAM trips are put together by PR firms or by chambers of commerce. Not that those trips aren't good trips; they are. They're wonderful trips; they cover interesting terrain. But they are very structured; they cover generally Chamber of Commerce members, and not much beyond that. I want to get way beyond that.
GREGORSKY: "FAM" is short for what?
OAKLEY: It's a familiarization trip [laughter]. So I don't --
GREGORSKY: So you mean [grinning] that not everybody in these small towns joins the Chamber? I always assumed they did [laughter], if only for fear of missing something.
OAKLEY: No, not necessarily, but I'm looking for people beyond the shopkeepers. I'm looking for innkeepers who are knowledgeable -- and open. And also who are very candid. So, in a way, I'm kind of subtly encouraging travelers who read my guidebooks to stay for more than a day. They're getting enough information so that, if they really dig into it, they will find the kind of serendipity I have.
GREGORSKY: I was astonished at how many establishments are mentioned in Troutdale [located just east of Gresham].
OAKLEY: [Laughter]
GREGORSKY: To me, if you weren't lookin' toward that little group of buildings up there -- that cozy little downtown area -- you'd say: "Troutdale?!? It's another one of those suburbs with no core to it."
OAKLEY: Because it's been revitalized, and now has these little shops. It's a cute little place! Yeah, that's the kind of thing I'm looking for.
GREGORSKY: Did the publisher give you a travel budget?
OAKLEY: Yes. I was able to turn in my receipts for travel expenses, up to a certain amount.
GREGORSKY: Including overnight stays?
OAKLEY: Yes, food, lodging, gasoline, ferry tickets and such -- basic research expenses. So that was very helpful. I wrote the original OBP Oregon manuscript in about six months, during 1989. I already had a network of good people from doing the B&B books. My files grew. They were organized by geographic region. The file on the coast had sub-files for the south coast, the central coast, and the north coast. Then I developed files for all of the other seven major geographic regions of the state.
Part Three: What Does a Withhold of the Bold Mean?
GREGORSKY: In writing that has to cover "economic terrain" as well as the classic physical kind, you get to mention hundreds of businesses, which means that thousands do not get mentioned. The very helpful index even carries a separate section for "restaurants, cafes, bakeries, coffee shops," where -- my rough count -- 220 such places are mentioned. Roughly what percentage of those did you personally dine at?
OAKLEY: I think it's very important to explain that I do not eat in all of the restaurants -- and further, that the primary reason for Off the Beaten Path is not a guide to restaurants. Some other writer can do that [smile]. The OBP guides are travel guides to the natural history, the pioneer heritage, B&Bs, waterfalls, covered bridges, wineries, beaches, national forests -- all those wonderful things. At the same time, it was important to include eateries because, when people are on the road, they get hungry, they get thirsty --
GREGORSKY: So [provide] an alternative to McDonald's!
OAKLEY: Yes. So where do I get those restaurants? Generally, not from the Chamber of Commerce -- although once in a while I find a volunteer at the Visitor Information Center (seasoned volunteers give more inside information, because they're local people). But the primary sources for the local eateries are my bed-&-breakfast innkeepers.
GREGORSKY: Oh! Of course.
OAKLEY: Because no bed-&-breakfast innkeeper, if they plan to stay in business, will send their guests to a dud restaurant. The innkeepers, bless them, always know the best places to eat in their areas [smile]. I also always look for a good bakery and a really good, fun, local coffee shop to include for each major city and town covered in the guide.
I did mention one of the Starbucks coffee shops in Eugene -- but you can find a Starbucks just about any place these days. On the other hand, you do have to look for the Wet Dog Café in Astoria, or for the Cowboy Dinner Tree Restaurant in Silver Lake, or for Eleanor's Place Café in Uniontown, Washington, or for Novel Delights Coffee Shop up in Okanogan County in northern Washington. And I give readers enough information, including the telephone number, to actually find the place.
One last point about research, Frank: When you're a writer out in the field, you have to ask your questions more than once.
GREGORSKY: More than once to the same person, you mean?
OAKLEY: Yes, because doing so gets you to another layer of information. Ask the question, more than once, in a different way. Stay with it, and dig just a little bit -- in a nice way. The person will usually open up, and give you even more wonderful juicy information [laughter] -- that you can either use or not use! So, ask the question more than once -- and also ask several different resources. You're sifting, sorting, evaluating, and choosing.
GREGORSKY: All right, in that spirit, here's an editorial, persnickety, twilight-zone type of question.
OAKLEY: [Laughter]
GREGORSKY: I'm fascinated by those enterprises that get mentioned in passing, but are not endorsed, not bolded, and don't show up in the index. As in: What would I feel like if I owned one of these businesses that just sort of turns up as an aside? I noted this in several places. On page 108, for example, near the town of Sisters, the Oregon book says "be sure to plan a fine-dining evening at the Kokanee Café...in Camp Sherman, just around the corner from Camp Sherman Store & Fly Shop." Whoosh! The fly shop is not bolded or indexed -- but the restaurant is. The Fly Shop is only there as a logistical tool to help people find the restaurant you recommend?
OAKLEY: Well, in a way -- but more to give the traveler another little something to think about visiting.
GREGORSKY: Is that what you're doing?
OAKLEY: Oh yeah. I do that purposely because, if somebody is reading page 108 and notices that "just around the corner" is the Camp Sherman Store & Fly Shop -- the traveler might think hmmm, maybe I'll stop there. And I think that's a good thing.
GREGORSKY: But it's not a featured business. It's not in the index, nor is it bolded in the main text.
OAKLEY: I just popped it in there, because it sounded interesting.
GREGORSKY: [Chuckling]
OAKLEY: And the Kokanee Café gets consistent good raves from almost everybody, so I feel comfortable keeping it in the Central Oregon chapter. Part [of this process] has to do with space considerations. I'm moving right along there in the narrative -- I need to cover the whole state in fewer than 300 pages.
GREGORSKY: But you could have bolded the Camp Sherman Store & Fly Shop -- allowing it to stand out -- and doing so would not have added a single word to the text.
OAKLEY: Well -- yes, if I chose to do that.
GREGORSKY: To me, a bold is an endorsement, rather than a mere reference.
OAKLEY: It's been a while since I've been to Camp Sherman, so I'll double-check the place when I next go over the mountains to Sisters. If it's really still terrific, I'll definitely bold it.
But, one more thing: Readers should know that no establishment, no site, nothing in the book -- or any book in this entire series -- pays to be included. I get to choose what's included, and I do so because I think it's a good place and because I think readers would also enjoy checking out the establishment, the site, or the location. For example, recently, I received a copy of an email, written by a traveler, complaining about their treatment at an especially fine lodging I've included in the Washington Cascades. I'll need to seriously check this out prior to the next edition of the Washington book. Fortunately, this happens rarely. But I need to take the complaint seriously and check it out.
GREGORSKY: I see. It's good you raised that point about payments, something I would not even think to ask about. I'm a cynic about life in general -- but rarely about the people I'm working with [laughter]. Also, since I made such an example out of [the Camp Sherman Store & Fly Shop, let's have their URL] in the final Q&A. I can't remember ever going fishing, but -- this is the kind of spontaneous connection one can do using the web:
Last word on updates: A travel book is unlike other multi-edition works, where a new introduction or update chapter might be added for the second and third printing, even as 90% of the book does not change. Rather, Off the Beaten Path is like an erector set where hundreds of the pieces can move even though the design (form, structure) changes little. So, how much of the text changes with each "new" edition? Oakley estimates 20% to 30% -- and laughingly pulls out three pages from the January 2007 printing to show items that need what the data professionals call "refreshing."
GREGORSKY: Oh my God. I think we should include a PDF file of this example of your ongoing editing.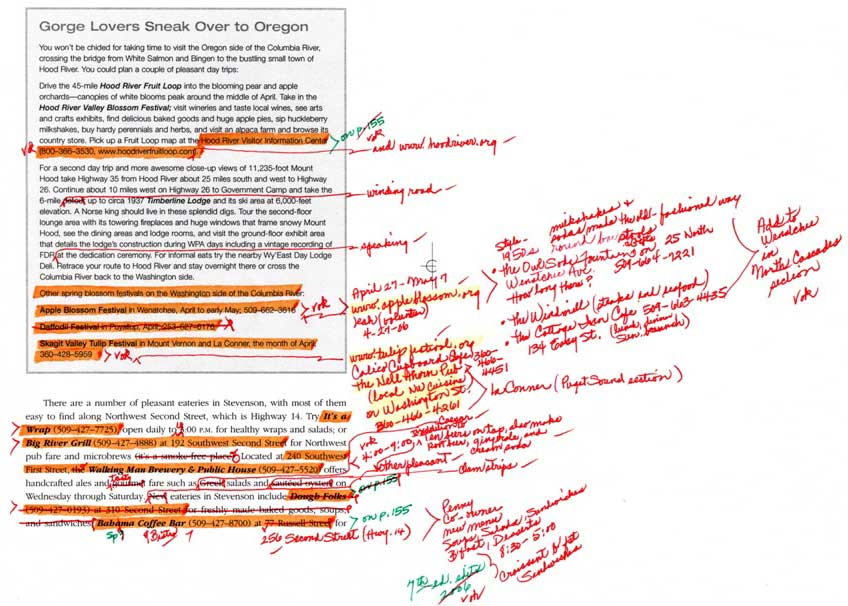 OAKLEY: Yes, isn't that hysterical? Here's another [page]. On almost every page of the most recent OBP Oregon book there are telephone-number changes, or something that has closed and must be deleted -- and then I try to find something else interesting to put into that space. You'll notice changes to be made to this sidebar? I might delete a sidebar that's been in several editions and come up with a new one. I especially did that during the Lewis & Clark bicentennial years. Fresh new sidebars built upon that theme -- particularly along the sections of Lewis & Clark trail that go west and then back east, in the Columbia River Gorge region. So I have several replacement sidebars here and there, from Lewiston, Idaho, all the way west to Astoria on the northern Oregon coast. Lots of readers -- history buffs, especially -- appreciate this kind of information.
Part Four: Rise of the Net, and Sifting through the Sites
GREGORSKY: After the first two editions, the Internet burst on the scene during 1994-95. How did this change your management of this book?
OAKLEY: [Pause]. That's a really good question. It gets back to my philosophy of research -- which would be #4 on the list of principles we covered earlier. I am extremely cautious about using material directly off the Internet. You do not get primary research on the Internet. You get gobbledygook, you often get old information -- and a guidebook needs current information.
GREGORSKY: There must be a few exceptions. The U.S. Geological Survey?
OAKLEY: The Geological Survey, yes. Others I would really trust are the National Park Service Internet sites and the State Parks and Recreation sites. The USDA Forest Service and Bureau of Land Management (BLM) websites also have current information that is regularly updated. But I still double-check the telephone numbers.
GREGORSKY: You just addressed the reliability of most websites for primary-research purposes. But you also have to make a decision on whether to add web addresses for businesses mentioned in the book.
OAKLEY: Right.
GREGORSKY: To some extent, you have to evaluate the website separately from the related business.
OAKLEY: Yes, and I do that. In many cases, the website is included; and in some cases, I choose not to include a website.
GREGORSKY: How do you decide?
OAKLEY: It's kind of an intuitive, subjective call, based on how helpful I think that particular website is going to be for my readers. I'm reluctant to include a website that is poorly designed, difficult to navigate, and does not share relevant information up front. For example, recently I was trying to find the 800 telephone number for the Visitor Information Center of a good-sized city in southeastern Alaska. I navigated the site for at least 20 minutes before finding this number. It was totally frustrating that the telephone number wasn't prominently displayed. Could be just as frustrating for a reader.
GREGORSKY: Any other observations on how the Internet changed the production of this ongoing series?
OAKLEY: You know, it really hasn't changed the production of this particular series that much. There's an Off the Beaten Path for every state. But because this is a more comprehensive "insider's guide," it really stands on its own as a helpful guide to toss into the car and take along with you. Whereas the bed-and-breakfast book, being kind of a one-subject project -- bed & breakfasts -- is a different case. Nearly all of the B&Bs now have their own websites; so, in that case, the Internet had a huge impact.
GREGORSKY: It affected the B&B series how?
OAKLEY: There's really no need now for Recommended Bed & Breakfasts Pacific Northwest, or the other books in that series, because folks tend to Google B&Bs in the state or region they're planning to visit. Yet, I'm still leery of using information on most B&B websites without checking with the innkeepers. Some of this information is outdated and can languish there for years.
Part Five: Vertical Climbs and the Porcupines
GREGORSKY: Page 114 of the 2007 edition, OBP Oregon, has us in Smith Rock State Park, near Redmond in central Oregon. You explain: "Free climbing, the most popular form of rock-climbing, allows only the use of the rock's natural features to make upward progress; however, safety ropes are allowed, to stop a fall." Okay, setting aside my sense that these people are insane: Why doesn't a 200-pound weight -- the falling human -- pull down the person or two he/she is roped to?
OAKLEY: Well, nobody is roped to another person when they're rock-climbing.
GREGORSKY: "Safety ropes" -- but these ropes don't go to another person, they go to -- ?
OAKLEY: It's a solo kind of a climb. There might be lots of climbers on various places up and down the rocks, but they're all solo -- independently climbing. So they may hammer those little metal spikes into the rock in strategic places to attach sections of rope on their climb.
GREGORSKY: One more part from that page: "You'll notice climbers in the ascent using just their hands and feet to perch on small outcroppings or to clutch narrow crevices as they carefully negotiate a route to the top; the object is to climb a particular section, or route, 'free,' without using the safety ropes." I assume these sections aren't ones where the movement is near vertical?
OAKLEY: Have you been to Smith Rock?
GREGORSKY: Nope.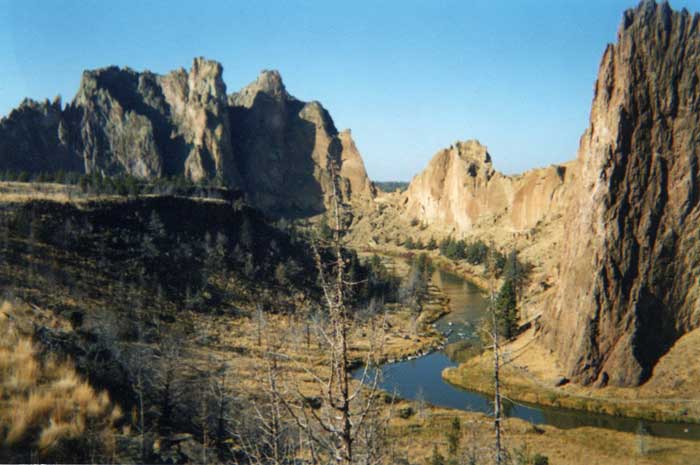 OAKLEY: Okay, I was going through some of my material and thought it would be fun for you to see where they're climbing. A big forest fire swept through there back in 1996 -- you can still see the results of that.
GREGORSKY: Right.
OAKLEY: The vegetation and trees are slowly starting to come back. It was a very scenic little canyon with juniper trees, manzanita, bitterbrush, and sage brush growing along the Crooked River.
GREGORSKY: Let's put one of these photos in the interview too.
OAKLEY: That's fine. You can't see climbers in these shots, but you can get an idea of the vertical nature of the Smith Rock area. The rocks, I would say, are more than 200 to 300 feet high.
GREGORSKY: So a pick or spike, jammed into the rock with a little hammer, has the top of a rope around it -- lasso-like? It better be jammed in there pretty good. I'm thinking of someone who might weigh 200 pounds, suddenly falling -- and that rope and pick are going to hold them?!? I don't get it [laughter]. I really don't.
OAKLEY: I haven't heard of anyone dying recently, but I suppose [pause] -- and I am not a rock-climber!
GREGORSKY: Here's the visual roadblock -- I've been thinking of the climb up Mount Everest, where you are roped to one or more people. But rock-climbing obviously differs.
OAKLEY: It does. There's a rock-climbing school over in Redmond that the book mentions. You would not attempt to climb Smith Rocks without some preparation and guidance about rock-climbing. You would need to be in really good shape physically. Folks of all ages come from all over the world to climb here; you'll hear every language [laughter] -- French, German, Italian.
GREGORSKY: Okay, let's stay in this exotic, wacky terrain. In all of this checking around and exploring, especially in the isolated state parklands, you must have come across rattlesnakes? A mountain lion? Bobcat? Hyenas? You are still here, and I don't see any scars, but: What encounters did you have with the wild and furry residents of Oregon?
OAKLEY: [Pause] I really haven't -- probably because I don't get that far off the beaten path. This is important to clarify as well. I am not going into deeply primitive areas, especially by myself. I think the only rattlesnake I ever encountered was in the eastern section of the Columbia River Gorge, near Wasco; and it was just cruising down the road [laughter]. The farmer I was with shot it. I've never seen a cougar or a mountain lion, but you'll see lots of deer in central Oregon. And I once saw a small bear ambling across the highway in British Columbia, near Lake Louise.
GREGORSKY: Ever see a porcupine?
OAKLEY: Yeah, but in captivity.
GREGORSKY: Was it outside of that High Desert Museum in Bend? [which has the largest porcupine exhibit in the U.S.].
OAKLEY: Yes -- a little one named "Thistle Britches" [smile].
GREGORSKY: So porcupines are out there? I have never seen one in the wild, but they are so cool.
OAKLEY: Yes. And the High Desert Museum is a wonderful spot to bring the kids and the grandkids. There is a large otter pool where you can watch the otters swim under water.
GREGORSKY: I made the mistake of arriving there at four o'clock, not realizing they close at five. Could have stayed three times as long.
OAKLEY: It's a marvelous museum of natural history set in the Ponderosa pine and sagebrush. A young man named Donald Kerr started the museum in the early 1980s. I drove over to central Oregon and met with him back then. All that was there was a small structure. Kerr worked to hire a small staff, build several interesting natural-history exhibits, and they began to get private funding.
www.HighDesertMuseum.com/about_the_museum/
But Kerr later suffered a serious injury -- from the prick of an owl's talon. It made him extremely ill -- and debilitated.
GREGORSKY: My God.
OAKLEY: Yes. My understanding is that he's still living, and being cared for by his family, but the injury did something to his nervous system.
GREGORSKY: That's a valuable cautionary story -- a word to the wise.
OAKLEY: Yes, do not pick up wild creatures of any kind.
GREGORSKY: You can get really [entranced] by this stuff -- wild creatures and outdoors -- and you never fully know where danger lurks.
OAKLEY: Exactly. Stay on the established trails. There are people today, Frank, still getting lost in the Columbia Gorge -- because they didn't stay on the established trails. One of my sidebars is a survival guide -- what to take with you if you're going out into the wilderness. If nothing else, be sure to take a compass!
Part Six: When Empty Space Facilitates Focus
GREGORSKY: Staying with the surreal and/or risky -- "ghost towns." How are they maintained? Who owns the empty buildings? Do police come by now and then? What is to stop homeless people or squatters, or just vandals passing by, from marring these [uninhabited] attractions?
OAKLEY: That's a great question. My sense is that those structures belong to the county (whatever county they're in). And some of the buildings are on private property. I don't think defacement would happen, because the towns are policed. County people drive through. If they saw anything strange occurring, it would be addressed. Most of these ghost towns are so far off the beaten path that even a vagrant would probably not choose to set up shop there -- unless they were a real hermit. There again, once that was noticed, I think it would be addressed by the local authorities.
GREGORSKY: In Arizona, a ghost town might be just five or six buildings. You get out, walk, and 10 minutes later you've seen the whole thing. Have you ever seen a large ghost town? Something with 15 or more buildings, and they're spread out?
OAKLEY: Yes, the little ghost town of Flora, off Highway 3, oh, about 20 miles north of Enterprise, in northeastern Oregon -- it's the biggest ghost town I know of in the state and it's on the Oregon map. You can drive there, park, get out and walk around. It has at least two streets and more than 10 buildings. Most of the other ghost towns I mention in the guide might be just one or two buildings. But Flora is like a little old town right out of a western movie -- it's almost on the Idaho border; almost to the Snake River. We're talking way off the beaten path here.
GREGORSKY: Say more about it.
OAKLEY: All the buildings are empty, no glass in the windows, doors ajar, and with weathered grey siding and leaning roofs. Wild blackberry and other vines are spilling out the windows. No trees, just windswept grasses and old shrubs and open to the sunshine. A great place for photography or for artists. And it's safe -- from Flora, you could easily go back to Enterprise or Joseph for food and overnight lodging. Or, bring a picnic lunch! If I was developing a list of my top 20 places in Oregon to not miss, the ghost town Flora would make the list.
GREGORSKY: You are giving new meaning to the phrase "the fauna and the flora."
OAKLEY: [Laughter] Oh, dear.
GREGORSKY: Sorry, couldn't resist the pun. And, speaking of fairly empty places, in August 1998, going from Seattle to Boise on a leisurely Friday, I had occasion to drive Interstate 84 southeast through the Blue Mountains and northeastern part of your state. I'll never forget it -- a fabulous drive during late afternoon and early evening. Beautiful mountain horizons, mixed with farm and ranch spreads. But I also remember the shock of seeing a sign that said "no gas for 49 miles." To see that kind of warning on an Interstate -- is what scared me. That's a sign you expect on some obscure old highway rather than on a U.S. Interstate.
OAKLEY: When you drive over in that part of the state, and go through a town of any size, you always look at your gas gauge -- and if you're down to half a tank, you stop and fill up. Period. I even do that here in town.
GREGORSKY: [Laughter] The precautionary habit is so engrained.
OAKLEY: Absolutely. Don't even think of traveling around central and eastern Oregon without a full tank of gas. And the same thing down in southeastern Oregon, in the Burns and Steens Mountain areas. Even when you can find a gas station, most of them close at dusk.
GREGORSKY: What economic options are open for small towns?
OAKLEY: A number of small towns in the Pacific Northwest are transforming themselves into "theme towns." One example in central Oregon, near Bend, is Sisters, which is becoming a western style, ranch-style theme town catering to visitors. Leavenworth is another example, up in the Washington Cascades, east of Seattle toward Wenatchee. Fifty years ago it was a dying railroad and lumber town. Now it's a charming little Bavarian and Austrian theme town, with wonderful events going on, all year long.
GREGORSKY: But they could do even better by changing the name of the town. I mean, "Leavenworth" is a tough sell -- for those of us on the other side of the country, it means either prison or military.
OAKLEY: It does seem strange, doesn't it? But we don't think of it that way because it's in the scenic Cascade Mountains and its décor is Austrian. Another example is Jacksonville, in southern Oregon, near Medford, which is returning to its historic gold-mining roots. And nearby Ashland, with the Oregon Shakespeare Festival, is themed to take advantage of the English bard William Shakespeare. It's a way for towns to survive as a community, although it gets a little "touristy." Being the kind of soul I am, I'm looking for more --
GREGORSKY: Authenticity?
OAKLEY: Yes -- and it's becoming harder and harder to find the authentic "off the beaten path" small inns, charming B&Bs, non-chain cafes, cute little coffee shops and bakeries, quirky museums, and places like that. Often the cute little coffee shops and cafes close, so you always need [to be looking for] others.
GREGORSKY: Well, just using simple math, wouldn't it get harder with each edition of the book? Because you have already found so many [towns, enterprises and other situations].
OAKLEY: Absolutely.
GREGORSKY: But that doesn't prove the state's level of authenticity is going down. It just proves you've been at it for a while.
OAKLEY: Yes, for more than 20 years! I'm thinking I'll do one more edition for 2009, and then retire from the OBP series. Nine editions of OBP Oregon are plenty. Time for a new regional writer to have a go at it. Fresh eyes, new ideas.
GREGORSKY: Plus how many for the state of Washington?
OAKLEY: We're on the seventh edition now (2007).
Part Seven: How to Vacation on the Eastern Side
GREGORSKY: Let's not leave the northeastern part of Oregon yet. Pendleton gets a decent write-up in OBP Oregon. We can link to parts of their website in the published Q&A, but two questions: How big is the Pendleton Underground, and how exactly is it structured?
OAKLEY: Pendleton is a western rodeo town. Madison Avenue hasn't invaded yet. It could use a little sprucing-up (I feel the same way about Yakima, Washington). But Pendleton does have the Underground. This is an authentic underground where Chinese laborers lived back in the late 1800s and early 1900s -- because they were not welcome "topside." They came up only as they were laboring on the railroads and other building projects -- they were part of the work crews, but not totally accepted in the community.
GREGORSKY: Pretend you're down there in the Pendleton Underground -- what are you seeing?
OAKLEY: Well, you're walking through these wide tunnels. They are lighted now but, in early days, they would have been very dark and [presumably] lit with candles and lanterns.
GREGORSKY: Are they at least seven feet tall?
OAKLEY: Yes, and with little side rooms. These rooms probably held cots, or bunk beds. They had their own kitchens down there, and their own laundry.
GREGORSKY: How much of this "underground" is there? Any stores, or just a place to warehouse laborers on their off-hours?
OAKLEY: Mostly their living quarters. Visitors can join a tour pretty much year round; you have to be guided through the Underground. And then, in the spring, Pendleton offers "the Underground comes to life." Volunteers dress in Victorian and Oriental garb and inhabit various parts of the Underground -- it's an interesting "living history" experience.
GREGORSKY: I'm still looking for a spatial sense. Is the Pendleton Underground as big as this whole property?
OAKLEY: It's at least several blocks long and with little side rooms where you look up and can see where the sidewalk is. There might be a grate that is covered with a glass pane. So the tunnels were almost directly under the sidewalk areas of town.
GREGORSKY: What else is in Pendleton? Hiking or biking trails?
OAKLEY: Not too much of that. There are a couple of interesting tribal museums, a splendid new one called Tamastslikt Cultural Institute. And there's also the Pendleton Round-Up Hall of Fame [featuring] wild and woolly broncos and rodeo riders from years past. The big event is the Pendleton Round-Up and Rodeo.
GREGORSKY: The reason I'm asking is that Michele and I might spend a week in Boise, Idaho. For one thing, she has never been there. Secondly, what I didn't do back in '98 was come west from Boise into the northeastern part of Oregon and see some of these places, which I imagine can be managed on day trips.
OAKLEY: Yes, and in that case, you'd also want to spend time in Baker City and La Grande, both off Interstate 84. From La Grande you can take Highway 82 and go north and east to Enterprise and Joseph -- and then, from Enterprise, you can go north on Highway 3 to visit Flora, the scenic ghost town!
GREGORSKY: Um-hmm. Okay.
OAKLEY: This northeastern area is incredibly scenic -- high mountains, lakes, ranches, towns. You'll find some nice eateries in Baker City, good eateries in La Grande, and a few in Pendleton. But the whole northeast corner of Oregon -- you could easily spend a week here, ranging from Boise west into the scenic and accessible parts of the Wallowa Mountains and the Wallowa-Whitman National Forest -- scenic lakes and campgrounds and hiking areas.
From Boise you can also come across the state line to the town of  Ontario and see the Four Rivers Cultural Museum, which celebrates the four cultures that live in this area: The Basques, the native tribes, the Japanese (when they came here to work during World War Two), and white settlers. It's a wonderful museum that honors all these cultures, with many of these families still living in the region.
Part Eight: No Swimming Unless
GREGORSKY: Another rumor is that, unless you're down around Santa Barbara, the Pacific Ocean on its western U.S. coast never gets above 60 degrees, and therefore you have to be some sort of a fool to swim in the Pacific up here in Oregon.
OAKLEY: Correct. Do not swim in the Pacific Ocean [laughter] -- unless you have a thick wet suit on!
GREGORSKY: Have you known anybody who can brave it?
OAKLEY: [Pause] No. Not without a wet suit. Your body temperature -- my gosh, you'd go into hypothermia within minutes.
GREGORSKY: Oregonians are given a lot of credit for avoiding the sprawling touristy beach set-ups of the eastern seaboard -- the Jersey coast, or Ocean City, Maryland. Now, part of that here in Oregon was political decisions, zoning, state parks --
OAKLEY: Right. Most of Oregon's beaches are public and undeveloped; and public access, public campgrounds, and public waysides are provided.
GREGORSKY: But the rest of it was: There's just not the draw to go into the water. Temperature-wise, Oregon's coast differs drastically from Long Island or New Jersey or Virginia Beach.
OAKLEY: That could be. You could go wading -- up to your ankles or something like that. But even then, your feet will freeze.
GREGORSKY: You can't even take the kids out there and frolic in the water.
OAKLEY: Well, you could frolic for a few minutes. But don't go swimming. Just frolic in the waves at the very edge [laughter] -- and have lots of towels and warm clothes. Then have a driftwood campfire on the beach so you can warm up and roast hot dogs!
GREGORSKY: Twice a year (according to page 30) comes the Oregon Beach Clean-Up. What can you tell us about that?
OAKLEY: It's a wonderful project, and mentioned at the end of the "Oregon Coast" section of OBP Oregon. It's been going for many, many years and the Great Oregon Clean-Up has expanded to other areas of the state as well.
GREGORSKY: But how do they organize it?
OAKLEY: The work is all done by volunteers, and it's well-organized. The key person is Jack McGowan, a former Portland newscaster -- I believe he and his family initiated the Beach Clean-Up a number of years ago.
GREGORSKY: And it's for the whole coast, during the same timeframe?
OAKLEY: Yes, the same weekend. Volunteers pick up tons and tons of trash. They especially like to clean the beach of plastic -- because birds will often get stuck in the plastic, or get the plastic into their systems. There's a website that tells all the history and information -- www.Solv.org.
GREGORSKY: Very good. Now, before we quit, I gotta cite a unique attraction. Everyone can imagine how marvelous it is, but -- say something about Crater Lake.
OAKLEY: Oh my gosh [laughter]. I think everybody should have the experience of seeing Crater Lake at least once. It was once a mountain called Mount Mazama that was probably as high as, if not higher than, Mount Hood. Eons ago, it blew: Mount Mazama fell in on itself, and formed a huge caldera, more than a mile across. The ash and tuff from that volcanic eruption was carried by the winds farther north than Bend (40 or 50 miles away), and much of it was deposited in layers of black, yellow, and pink at a place east of Redmond called the Painted Hills. But Crater Lake is round and wide, and deep, and absolutely gorgeous. On sunny days the lake is incredibly blue.
GREGORSKY: Are there parts of the rim where you can hike or walk?
OAKLEY: Yes, there are hiking trails developed by National Park service staff and volunteers. If you can negotiate the steep trail down to the lake, you can also take a guided boat trip around the lake. They've also done a beautiful job of refurbishing Crater Lake Lodge -- and you'd want to check ahead for rooms. The lodge is not open all year because the elevation is 9,000 feet and the road closes with the first snows. Summer is the best time to go -- late June, July, and August.
CONCLUSION (almost)
GREGORSKY: Well, I've always wanted to meet someone who is producing one of these [travel and geography] books, and look at it as a research-and-editing project in addition to spotlighting certain of the contents.
OAKLEY: I'm just delighted that we've had this conversation. And here's one another thing I wanted to share with you -- an old Oregon road map that's one of my prizes.
GREGORSKY: Road maps! I used to collect 'em as a kid. Back then you could get them for free at gas stations -- this was early 1960s. I've still got almost 400 road maps. We lived in the Northeast, so mostly they cover Canada, New York, Pennsylvania, Ohio.
OAKLEY: Wow. So what are you going to do with all those great maps?
GREGORSKY: I don't know. I figured someday someone would give me a thousand bucks for them.
OAKLEY: [Laughter]
GREGORSKY: Okay, when did this one come out? It appears to be "more classic" than my stack.
OAKLEY: Late 1940s. I'm going to have it framed. This shows the winding U.S. Highway 99, before Interstate 5 was constructed. I remember that it would take seven hours to drive north from Grants Pass to Portland. See how winding the road is on this old map? Today, you can leave Portland driving on I-5, and be in Grants Pass, Medford, and Ashland in under than five hours.
© 2007, Myrna Oakley and Frank Gregorsky

Some of Myrna's Favorite Places,
from the 8th edition of Off the Beaten Path Oregon
Newport Belle Riverboat Bed & Breakfast -- 800-348-1922, www.NewportBelle.com -- at Newport Marina, in Newport (see page 19, The Oregon Coast chapter)
Oregon Cabaret Theatre -- 541-488-2902, www.OregonCabaret.com -- in Ashland (page 49, Southern Oregon section)
The Cowboy Dinner Tree Restaurant -- 541-576-2426, www.CowboyDinnerTree.net -- in Silver Lake (page 73, Southeastern Oregon chapter)
Circa 1936 Pine Tavern Restaurant -- 541-382-5581, www.PineTavern.com -- in Bend (page 104, Central Oregon chapter)
Wilson Ranches Retreat -- 866-763-2227, www.WilsonRanchesRetreat.com -- in Fossil (page 135, Northeastern Oregon chapter)
And two from the city of Portland: Washington Park Rose Gardens -- 503-275-8355, www.TravelPortland.com -- and The Japanese Garden -- 503-223-1321, www.JapaneseGarden.com (see page 161)
Circa 1947 The Bomber Restaurant -- 503-659-9306, www.TheBomber.com -- in Portland-Milwaukie (page 174, Portland and Environs chapter)
Mount Hood and circa 1937 Timberline Lodge -- 503-622-7979, www.TimberlineLodge.com -- and Government Camp (pages 207 to 210, Columbia River Gorge and High Cascades chapter)
The McKenzie Pass Scenic Drive -- www.VisitLaneCounty.org -- and the Dee Wright Observatory, Highway 242, east of Eugene (pages 240-241, The Willamette Valley chapter)