Author Profile 2011:
JAMES J. KENNEALLY (Brockton MA)
"Jim" Kenneally is Professor Emeritus of History at Stonehill College, where he taught from 1958 to '95. He is the author of Women and American Trade Unions and coeditor of Gender Identities in American Catholicism.  But the two Kenneally books explored on this website are A History of American Catholic Women (1990) and -- in the text below -- A Compassionate Conservative: A Political Biography of Joseph W. Martin Jr., Speaker of the U.S. House of Representatives (Lexington Books, 2003 -- ISBN: 9780739106761).
Joseph W. Martin Jr. of Massachusetts spent 44 years in the U.S. House, and an astonishing 20 of those 44 were as the elected leader of the House Republicans. I sought out Kenneally because his biography of Martin fills a critical hole in 20th-century congressional GOP history, which happens to be my own subject for a manuscript unlikely to be completed before 2013.
The half of our Q&A you see here -- www.ExactingEditor.com/Kenneally-Martin.html -- will appeal to (a) almost any Republican who ever served in Congress, including senior staff; (b) people who grasp that Congress is far more complex than what MSNBC and the Tea Party movement make it out to be; and (c) aficionados of "coalition-management," which is not a discipline and never will be, hence we need to study political leaders who come by it -- more or less -- naturally.
At the same time -- folks, please remember: This site is designed for nonfiction editors and researchers, not partisan activists or policy wonks. Therefore the discussion with Jim Kenneally is mostly about how the diligent biographer goes about his or her work...

FRANK GREGORSKY: The only Republican Speaker of the House between Nick Longworth in 1930 and Newt Gingrich in 1995 was Joe Martin [during 1947-48 and 1953-54]. And so I was delighted to discover your biography of Martin on a web search for Bob Donovan's book on Martin -- which I had always thought was the only such resource out there! We'll get to Donovan's book in a minute. First, you explained in the Introduction why [the career of Joseph Martin] was a gap that needed to be filled [with a real biography], and maybe you could reprise that statement here.
JAMES J. KENNEALLY: I think Joe -- if I call him "Joe," you'll have to forgive me; I feel like I know him. Everybody called him "Joe" -- except Calvin Coolidge, who called him "Joseph." And I thought he had accomplished a great deal. He lived an exemplary life, in politics, and in many ways I thought his approach could be a guide for people today. I felt badly that he had been ignored.
GREGORSKY: You told me you're a Democrat and always have been, which makes what you just said all the more unusual. Not only that, but writing a biography is a vast undertaking. Go back to the origins. How did it start?
KENNEALLY: I did an article first -- it must have been in the '80s. I was teaching at the college where Joe's papers are, and the article was on Joe and the New Deal. I did something else on Joe, thinking [these efforts] might encourage somebody to come and do a decent biography. But that didn't happen. So I thought I'd do it myself.
GREGORSKY: And the papers were at Stonehill College when you did the original article?
KENNEALLY: Yes.
GREGORSKY: Can anybody go in and see those papers?
KENNEALLY: Sure! Of course, you'll have to call the archivist. But it's open 9 to 5, five days a week. And they're pretty well indexed on the Stonehill College website.
GREGORSKY: Are they really? I had no idea [the index could be accessed electronically]. We can link to that index in the published version of this Q&A. I'll come back to the papers in a bit.
(1) ROBERT J. DONOVAN
I'm very curious about Donovan's book on Martin [the title is My First Fifty Years in Politics]. This 1960 book based largely on Martin's still-fresh recollections -- it was vital to your own, I assume. If so, what kind of dealings did you have with Donovan?
KENNEALLY: I asked him about the tapes he had made with Joe. Could I have access to them?
GREGORSKY: Perfect.
KENNEALY: And he said -- essentially he said no. Because he didn't think they would do me any good. He said anything that was of significance on the tapes he included in the book, and he said it'd take me a very long time to listen to them; during the taping, there was a background noise with a radiator hissing. He said: "It'd be a waste of your time." And I had enough respect for Donovan to believe him.
GREGORSKY: Okay. I always saw Bob Donovan as a skilled writer and a fair-minded historian. Years ago I acquired the hardcover of his book about Eisenhower [published in 1956: Eisenhower -- The Inside Story]. Also have both his books on Truman [released in 1977 and 1982], written after far more of the historical documents were made available.
KENNEALLY: Those two books on Truman are superb. There hasn't been a book on Truman, including the one by [David] McCullough [Truman, Simon & Schuster, 1992] that got all the publicity, that didn't make use of Donovan's research.
I asked him, when I finished the biography of Joe, would he read it? But at that point his wife told me he was suffering from dementia. She knew that he would love to have read it -- but under the circumstances he couldn't. That was a loss. I would have appreciated having his perception of the book.
GREGORSKY: Was Donovan able to tell you, or were you able to deduce, why he did the Martin book? Apart from the political focus, it's so different from Donovan's other books. Was it a collaboration? Something he did for a friend?
KENNEALLY: I have no idea. And I never did ask him. Probably because the opportunity arose. It was written not that long after Joe had been ousted as Minority Leader, and he might have decided, because of that, that an autobiography was due. I would not be surprised if Joe approached him.
GREGORSKY: Allowing for the 1959-60 timeframe, and the hurt [from being kicked out of the House GOP Leader post in December 1958], how would you rate this book that Bob Donovan and Joe Martin [produced collaboratively]?
KENNEALLY: [Pause] It's tough to rate because [to produce that kind of manuscript] Donovan had to keep asking Joe questions and getting answers from him -- so it's still really controlled by Martin.
GREGORSKY: Um-hmm [agreeing].
KENNEALLY: So you have to evaluate Martin as much as you would the interviewer and the book. Obviously he's quite bitter at the time -- he was bitter about the ouster until he died, and it's reflected there. And certain things Donovan asked him I'm sure he wouldn't answer. Consequently, it becomes more Martin's book than Donovan's.
GREGORSKY: Donovan falls into the role of "scribe" and something of a cleaner-upper, but not in any sense a co-author.
KENNEALLY: That's right. Joe's brother Ed asked me if I'd do essentially the same thing for him that Donovan did for Joe. And it ended up that Ed controlled it -- I mean, at certain times I had to turn the tape recorder off [after] he'd say I do not want to discuss that. "I will not discuss that!" So -- I'd back off.
GREGORSKY: Right.
KENNEALLY: But that experience helped me appreciate what Donovan was trying to do.
(2) EDWARD MARTIN
GREGORSKY: Thanks for bringing up Edward. How close were he and Joe in years?
KENNEALLY: There was considerable difference between the two -- 14 years. Joe picked out Edward's name. Joe was delivering newspapers, and a customer of his gave him the book Man Without a Country by Edward Everett Hale. And he was so impressed by that book he persuaded his mother to name the child that she was carrying "Edward."
The relationship between the two became extremely close. Whenever something exciting was going on in Joe's life, he would call Ed, who worked for Western Electric. He would take a leave and come down and join Joe. He did that for each of the national conventions. He also took leave during the [Wendell] Willkie campaign. He was with Joe when MacArthur was fired [in April 1951]. All of those kinds of things -- so Ed was a very good source for information on Joe.
GREGORSKY: You were at Stonehill College from 1958 on. And the college was in the district Martin represented for those 44 years. What else explains his congressional papers ending up at Stonehill?
KENNEALLY: Cardinal Cushing of Boston was with Joe at a President's dinner and they were both being honored; it was a fundraiser. And Cushing asked Joe to give his papers to the college. Joe said sure, that's a good idea, it's a college in my district -- that sort of response. So, when Cushing got up to speak, he announced that Joe would be giving his papers to the college, and it was in the New York Times the next day. And it meant that Joe couldn't change his mind [laughter].
GREGORSKY: Was that a problem?
KENNEALLY: He had said that he was going to give them to a proposed Republican library in Washington; then he was toying with the idea of giving them to the Eisenhower Library. But we ended up with the papers -- memorabilia, as well.
GREGORSKY: Well then, it's fair to say that those papers, ending up at the college where you were teaching -- [that development] is pivotal to the fact that you ended up doing this biography.
KENNEALLY: That's right, because my interest was women's history. But, when the papers came, I was the one who agreed to see that they were preserved properly and taken care of. I then became quite interested in the papers and became extremely friendly with Joe's younger brother Ed.
GREGORSKY: Was he also doin' something with the papers?
KENNEALLY: Yes. He'd give me a bunch at the time: "Here are some more of Joe's papers." Some of them were in storage in Joe's insurance office. I'd go over and meet Ed there and pick up the papers. I think he liked my courting him and wooing him. We ended up being friends.
At one point, though, it was disastrous. Joe had a lot of books that had been autographed to him by prominent people. And the autographs revealed quite a bit about the author of that particular book, and about Martin.


But Ed was mailing the books back! When I found out he was doing that, I pointed out how essential it was to have them in the collection: "Please stop doing that!" -- which he finally agreed to do. He also did that with photographs. I spent a lot of my time trying to persuade him [how] that was a very nice gesture but, if people were going to do serious research on Joe, we should have everything in one place.
GREGORSKY: Um-hmm, um-hmm. Jim, this is the kind of detail -- nuts and bolts and odd connections in the production of a book -- that I just love, and they are exactly what the Author Profile series [on my website] tries to get at.
INTERMISSION: Donovan, Ferrell, Halleck and the Martin Papers
<< Robert John Donovan [1912-2003] was a Washington correspondent, author and presidential historian... Donovan had begun writing books on the Washington political scene while still a reporter and continued that after retirement. He also served a year as a Woodrow Wilson Fellow and a year as a Visiting Professor at Princeton University. He liked to joke that he was the only Professor at Princeton never to have attended a single day of college in his life. On the occasion of the 100th Anniversary of the birth of Harry Truman, he addressed a Joint Session of Congress as Truman's principal biographer. At the time, he was the only active journalist to have ever had that distinction. >>
         http://en.wikipedia.org/wiki/Robert_J._Donovan
<< Following the death of Congressman-elect Frederick Landis in 1935, [Charles Abraham] Halleck [1900-1986] replaced him and remained in that position until 1969. A prominent member of the Conservative Coalition, he served as the House Majority Leader after the elections of 1946 and '52; he was House Minority Leader from 1959 through '64. He was a strong opponent of the liberal social proposals of Democrats John F. Kennedy and Lyndon B. Johnson, but supported the Vietnam War and was one of the strongest advocates for the Civil Rights Act of 1964. Along with Senator Everett Dirksen, Halleck was the face of the Republican Party during much of the 1960s, and made frequent appearances on television news and talk programs. The press jocularly nicknamed his joint appearances with Mr. Dirksen the "Ev and Charlie Show." >>
         http://en.wikipedia.org/wiki/Charles_Halleck
GREGORSKY's Note: Also look into Charlie Halleck: A Political Biography, by Henry Z. Scheele (Exposition Press, 1966, 287 pages), ASIN B0006BOWCA
<< Robert H. Ferrell (born 1921) is an American historian and author of several books on Harry S. Truman and the diplomatic history of the United States. He served in the U.S. Army Air Forces during the Second World War and was an intelligence analyst in the U.S. Air Force during the Korean War. He received a B.S. in Education from Bowling Green State University in 1946 and a PhD from Yale University in 1951. He taught for many years at Indiana University in Bloomington, starting as an Assistant Professor in 1953 and rising to Distinguished Professor of History in 1974. >>
         http://en.wikipedia.org/wiki/Robert_H._Ferrell
PARTIAL LIST OF FERRELL's TITLES: Peace in Their Time -- The Origins of the Kellogg-Briand Pact (1952), Off the Record: The Private Papers of Harry S Truman (1980), The Eisenhower Diaries (1981), Woodrow Wilson and World War One, 1917-1921 (1986), American Diplomacy: The Twentieth Century (1987), Harry S Truman: A Life (1995), The Presidency of Calvin Coolidge (1998), and Harry S Truman and the Cold War Revisionists (2006).
THE MARTIN PAPERS at Stonehill College
<< The papers and memorabilia of Joseph W. Martin Jr., longtime Congressman and Speaker of the U. S. House of Representatives, were deposited as Speaker Martin had bequeathed in the College's "Cushing-Martin Library" in 1969 and 1975 by his brother, Edward E. Martin. The Collection of approximately 18,000 items is now preserved and accessible to scholars and the general public through the archives of the Joseph W. Martin Jr. Institute for Law and Society. There are no restrictions on the use of the papers. >>
FOR AN ITEMIZED (and exhaustive) ACCOUNT, see
www.stonehill.edu/Documents/Archives/Martin%20Public%20Papers%20Index.pdf
(3) SCRAPBOOKS AND VIDEOS
GREGORSKY: Let's get back to -- when you say "the papers," in the introduction to the Martin biography you refer to "107 Hollinger boxes" and "105 scrapbooks." What is a Hollinger box?
KENNEALLY: They are designed to preserve papers. They are acid-free, and they have covers on them such that, if you dropped the box, the papers won't come out. The Library of Congress uses them. The first time I saw them there, I thought: "Oh, that's what they are -- Library of Congress boxes." It took quite a while [smiling] before I realized they had a formal name -- Hollinger is the manufacturer. You've probably seen them in the background of some series like they did on presidential libraries on C-SPAN. You saw them in the background and didn't know what they were. They're all gray -- kind of a sick color gray.
GREGORSKY: If somebody goes into Stonehill, checks with the archivist, and is ready to be in there for three or four hours, do they bring out a Hollinger box and you go into it?
KENNEALLY: Yeah, that's right. They'll either bring out the Hollinger box or the files inside a Hollinger box -- depending how many you were looking for.
GREGORSKY: And what can you tell us about the 105 scrapbooks, I guess some of them done by Martin's mom?
KENNEALLY: Some of them were kept by his brother, and others were assembled by a clipping service. They're a great source for Republican history and -- obviously for dealing with Joe -- they're a tremendous source. And we have those all on microfilm now.
GREGORSKY: I assume there are a few -- I guess they wouldn't even be VHS tapes, but maybe even kinescopes, or other kinds of videos of him on Meet the Press or Face the Nation -- anything like that?
KENNEALLY: All of those that I could get hold of, we got. I went down to NBC, CBS, ABC and so forth, and picked up old newsreel clips, and -- I don't think it was Meet the Press, but there was a whole series of those kinds of things. So we have all of those [pause] -- I say "we" like I'm still there. I'm in there a lot, but I'm not associated with Stonehill any longer; I'm a Professor Emeritus. But, we do have all of those.
GREGORSKY: And what kind of format are his videos in? On reels?
KENNEALLY: I've got to stop and think -- no, they're on VHS tapes, and you could sit there and see them with no problem; they were never on reels.
GREGORSKY: That's great -- and in possession of Stonehill.
KENNEALLY: Right.
GREGORSKY: And you got the originals out of the vaults of NBC, ABC, etc.
KENNEALLY: Right. I went down and -- I didn't get anything from ABC; they weren't as cooperative as NBC and CBS. And some newsreels from the Library of Congress; I got video materials there as well.
GREGORSKY: Did you get an advance from the publisher? Some kind of grant? How did you fund your work [on this biography]?
KENNEALLY: I did it myself [laughter]. I didn't have a publisher until I got all the way through writing it. I wanted to make Stonehill a center of research for Joe, and also for people who'd be doing things in Republican history in the '30s and '40s. So I was tryin' to get as much material as I could. When I was doing that in the beginning, I had no idea of my writing a book. My idea was to get this collection and make it available to scholars. At that point, as I told you, my major interest was women's history.
(4) A FAMILY IN NORTH ATTLEBORO
GREGORSKY: Joe's mom -- you introduce her on page 1: "Born in Ireland in 1862, [Catherine] Keating, at sixteen, left her family in Dublin and sailed to New York, and then trekked to an Irish enclave in metropolitan Newark, New Jersey. Her independence epitomized that of the large number of single Irish women who emigrated to the United States alone in what the historian Ellen A. Biddle has described as an early Women's Liberation Movement." She met and married Joseph W. Martin, a blacksmith, and they had eight children. Do you know where Joe was in the so-called birth order?
KENNEALLY: Joe, the oldest male, was the second of eight children.
GREGORSKY: And what are some words you would use to describe Catherine Keating Martin?
KENNEALLY: Intelligent and dominating. She inculcated her values into the children, managed the family and finances, and had an abiding interest in politics. One of the highlights of her life was when [New York] Governor [Tom] Dewey came to visit her in 1948.
GREGORSKY: And why do we know -- I assume this because your book has just two mentions of him -- so little about her husband, Joseph Sr.?
KENNEALLY: Joseph Sr. was a hard-working blacksmith with his own business.  After a 12-hour day he would come home, smoke his pipe and relax.
GREGORSKY: Your book says that, in her eighties, Catherine had a map of congressional districts with pins to indicate whether Democrats or Republicans held it. It's a wonderful vignette. Does it come from the Donovan book?
KENNEALLY: No, that came from Ed.
GREGORSKY: So Catherine had a long life. And Joe Martin died in 1968, and was still in Congress as of 1966, at age 82. Brother Edward -- when and how did he pass away?
KENNEALLY: Oh, I'd say about six or seven years ago. He was a hundred when he died. And, as I said, I maintained a very close friendship with him. Our relationship was wonderful. Not only a great source of information, but a wonderful sense of humor.
He was the one who put me on to Joe's relationships with Clare Booth Luce -- and I was able to get a lot of material out of the Luce papers. Ed told me -- I don't think he'd object to this story now -- but: Ed used to have a key to Joe's Washington apartment. He would go there whenever he went down to Washington.
One time he went in, and there was a photograph of Clare Booth Luce in the bedroom. He went out and had dinner and then came back to the apartment to meet Joe -- and the photograph was gone. And Ed told me he never saw that photograph again. Whenever he was coming to D.C. Joe would take the photograph down and put it away.
GREGORSKY: Um-hmm. Well, that would have been the ultimate 1940s power couple if they had ever joined up formally.
KENNEALLY: Yes.
GREGORSKY: So, in terms of what had to happen for this biography to be written -- first of all, the papers ending up at Stonehill, and then the friendship with Edward, which in a way came out of the papers -- those were your basic props. I mean, you needed those two factors to write this book.
KENNEALLY: Absolutely. I needed Ed. I wrote to Hugh Sidey of Time magazine, and asked him: Do you know any human-interest stories about Joe Martin? I wrote to several people like that -- but Sidey is one that stood out because he came back and said something like: "Joe and exciting stories are mutually exclusive." I needed Ed, for the little details on Joe.
(5) CHARLIE HALLECK
GREGORSKY: In terms of holding the same leadership position in the House GOP, Les Arends -- whip from 1943 to '74 -- has no peer. However, I understand that Charlie Halleck is more important to party and to national history. Bill Pitts Jr. was Bob Michel's parliamentary specialist from 1977 to '94 and, in telling Pitts about your book, I learned that his dad, Pitts Sr., had worked for Halleck in the 1950s. Your footnotes mention a "Halleck oral history," I assume deposited at an Indiana university. Tell me physically what that is and how it worked. Did they loan you a transcript, or is it the real audio you heard?
KENNEALLY: I got a lot of stories on Halleck from Ed. And I used two oral histories. One was at the Eisenhower Library. It was transcribed -- I obviously read it -- and I think it's available on inter-library loan. And then Professor Ferrell at Indiana University interviewed Halleck for his own oral history -- and I forget now how I knew that he had it. But I got in touch with him, and he sent me copies of it.
GREGORSKY: Charlie Halleck -- what manner of man? The enthusiasm Eisenhower felt for him, as you reported it, is a real eye-opener -- to the extent of saying Halleck might deserve the '56 presidential nomination??
KENNEALLY: The relationship between Joe Martin and Charlie Halleck is very interesting because they were so opposite each other. Joe didn't drink; and, from all that I gather, Halleck really liked to drink. Halleck liked golf; Joe went fishing. Halleck was more conservative [and] more ideological than Joe -- he was much more ambitious, more aggressive in the way he handled things. There are times when Halleck backed Congressmen up against the wall and would holler at them for a vote -- Joe would never do that.
GREGORSKY: And in terms of their respective versions of Republicanism?
KENNEALLY: Sometimes Halleck would vote one way, and Joe would vote the other way. As I looked at the Eisenhower legislative-leaders' conferences, frequently Joe would say to Eisenhower that he didn't agree; or the policy being advanced at the White House wasn't great; or the way they're approaching it is not effective. There's very little of that from Halleck -- and Halleck continued in the legislative-leaders' conference when the Republicans were in the minority and he was no longer a "legislative leader."
GREGORSKY: Say more about that "conference."
KENNEALLY: When he was President, Eisenhower would have a weekly legislative- leaders' conference. The minority, the majority and usually some of the Eisenhower staff would be there. Detailed notes would be taken. Those notes would then be distributed. And some of the notes that I saw for Eisenhower's use were slightly different from the ones that were sent to Martin about the same meeting. Ones for Eisenhower's use would indicate more often the challenge from Martin -- such comments as "the Speaker resisted the approach," and so on.
GREGORSKY: Um-hmm.
KENNEALLY: That wouldn't be in the ones that were sent out to Joe. But they're a great source of history, and at Stonehill we have quite a few of the ones that were sent to Joe.
GREGORSKY: I see.
KENNEALLY: And the Eisenhower Library has the President's copies. But I'm not sure how generally available they are.
GREGORSKY: Back to the two oral histories of Charlie Halleck. Are these 500 pages of raw transcript? How rich or how "thick" are they?
KENNEALLY: I've forgotten. Ferrell's was briefer than the one in the Eisenhower Library -- maybe 15 pages?
GREGORSKY: Oh, okay. That [one by Ferrell] could be just a single three-hour interview.
KENNEALLY: It depends on the importance of the individual who is being questioned -- but no, they're not long oral histories.
(6) OPPONENTS IN THE 10th DISTRICT
GREGORSKY: Martin carried his Massachusetts congressional district 22 successive times. I wish you had been able to create a chart or table showing all the percentages -- never mind the raw vote totals, the percentages would be enough -- throughout. I assume those data simply are scattered from here to Kingdom Come?
KENNEALLY: I believe I have the totals of nearly, if not every, congressional election in my book; it would be easy to convert them into percentages. Any missing ones could be obtained from newspapers. Except for his last few campaigns, Joe usually won with considerable ease; he sometimes even carried the city of Fall River. Before there were Reagan Democrats there were Martin Democrats.
GREGORSKY: The only female, other than Joe's mom, that grabs me from the Martin biography is Martha Sharp, who ran against him in 1946. Was she Catholic?
KENNEALLY: Oh no. She was a Unitarian, and she worked for the Unitarian Service Committee. She's one of the Righteous Gentiles of Israel -- they have a plaque for her and what she did for saving Jews and all of that sort of thing. In the book, I mentioned a biography on her -- but it was never published; and I couldn't get access to her papers. I did get some material from the woman who was doing her biography. Sharp was accused of being a Communist by some clerical and veteran supporters of Martin.
GREGORSKY: Um-hmm, um-hmm.
KENNEALLY: I was unable to get access to the Diocesan Archives of Fall River. I couldn't get all that I wanted on her, and I'm very disappointed in that. She was a fascinating lady. And the woman who was doing her biography ended up doing a study of the Universalist Unitarian Service group of which she was a part. I haven't checked that book, but I assume it's the only one with much of Sharp's biography.
GREGORSKY: And what can you say about Edward F. Doolan? I was astonished to see someone run for the House seven times and lose every time. Never heard of such a thing! He gets six or seven mentions, yet you don't describe him.
KENNEALLY: For three decades, Doolan was a labor leader in Fall River, which was the 10th district's largest city. He served as Manager of the Greater Fall River Textile Union, AFL-CIO; President of the Central Labor Council; and Vice President of the United Textile Workers. Sometimes he was unopposed for the Democratic nomination.
GREGORSKY: Do you know if Doolan and Martin ever made joint appearances?
KENNEALLY: I don't, but I would not be surprised if they appeared jointly at some civic occasions. There appears to have been was no animosity between the two.
Martha Ingham Dickie Sharp-Cogan (1905-1999) was an American philanthropist who, along with her husband Waitstill Sharp, helped hundreds of Jews to escape Nazi persecution... While working at another office in Marseilles, which served as a main hub of free France, they worked with Varian Fry, who was sent to Europe by the new Emergency Rescue Committee... She is survived by her daughter, Martha Sharp Joukowsky, a retired Brown University archaeology professor... Artemis and Clements Joukowsky (the Sharps' grandchildren) have been meeting with movie producers interested in turning their story into a film.
-- http://en.wikipedia.org/wiki/Martha_Sharp (version from 10/5/2010)
(7) WHERE JOE MARTIN WAS LIBERAL
GREGORSKY: There's a book from the early '80s -- I think -- called A Moderate Among Extremists. The author [James C. Durham] positioned President Eisenhower as being "in the middle" of southern segregationists and civil-rights crusaders. The thesis is that Ike wanted to make progress for blacks but, if he pushed too hard, the campaign for equality would backfire.
Of course [when Durham's book was reviewed] the organized black community reacted to being called "extremists" -- and, the way you describe Martin's stance on civil-rights legislation, he would have been one of those extremists! Plenty of good quotes are in the Martin bio about the '57 Act, and page 229 cites NAACP praise for Martin in 1955. Obviously the civil-rights leaders of that decade are glad to have a powerful Republican on their side. Is this an active collaboration? Or is Joe just acting on his own?
KENNEALLY: I think he is acting on his own -- but they were encouraging him. And that was also true back in the '40s. When he was chairman of the Republican National Committee, he brought in younger, better-educated blacks. Many of the African-Americans who represented Mississippi on the Committee had not even been to Mississippi, and half of them were "Toms." Joe replaced them with younger, more vigorous blacks, World War One veterans, law-school graduates of Columbia -- that kind of thing -- people more interested in pushing black civil-rights than being a token at the Republican National Convention.
GREGORSKY: Um-hmm, um-hmm.
KENNEALLY: And I think that was important. He himself had earlier supported anti-lynching petitions and he stayed very consistent. As an old man, he supported the civil-rights legislation under Johnson.
Periodically, interviewing Ed, I'd go back to civil rights -- and one day he got angry with me. In a wonderful relationship, it's the only time he ever got angry with me. He said: "Stop looking for a hidden motive on blacks. My mother taught us that one man was as good as another man," and then he looked at me and laughed -- "except for baseball players."
GREGORSKY: [Chuckling]
KENNEALLY: All the Martin boys played baseball. But Joe -- in terms of Jews and blacks -- Joe supported them before being in such a position that he would be trying to win support for the Republican Party by keeping blacks or Jews in it. He did it while just a Congressman from Massachusetts. So there's a complete consistency -- all the way through: Petitions against lynching, Fair Employment Practices Act, all of the civil-rights legislation, late in his life.
As to where it came from? Maybe what Ed told me was right -- their mother! She was such a dominant character. She was death on liquor. The only one [of the siblings who] really drank and really enjoyed it [pause] was Ed.
GREGORSKY: If Joe Martin somehow came back today, for a week, and you had a good hour or two with him -- after he had spent several days getting "caught up," meaning he wouldn't be some kind of "ghost" -- what would you ask him? What are the questions only he could answer? What is the missing link -- or two -- still nagging at you today?
KENNEALLY: The most obvious question is "what would you do differently" -- based on what you're seeing [in the Congress] now.
GREGORSKY: Okay.
KENNEALLY: But, specifically, I'd ask him about his relationship with [Sam] Rayburn. It was sooo close, that it sometimes skewed the differences between the two parties. And I'm sure that people to the left in the Democratic Party, and to the right in the Republican Party -- they were probably upset.
GREGORSKY: Um-hmm.
KENNEALLY: But the relationship of the two was such -- it was difficult to challenge them. And I'd like to go over that a little bit more. Obviously that kind of a relationship between the top party leaders in the House led to a lot of civility and understanding, and we could use more of it.
On the other hand, did it not so obscure differences that it made it more difficult to have an honest and open debate?
GREGORSKY: Yeah.
KENNEALLY: I'd like to ask him -- [chuckle] if he were around! -- I would ask him about that. [Pause] As for what else? I'd push him a little bit more -- see if I could get more of an understanding -- as to why he was the way he was in terms of supporting Jews and blacks. The blacks were historically rooted in the Republican Party -- but when he was in a position of authority and power, you know that some of [his actions were a way] to get votes for the party.
GREGORSKY: Um-hmm.
KENNEALLY: But he was committed that way all of the time.
(8) "You just have to hunt all over the place…"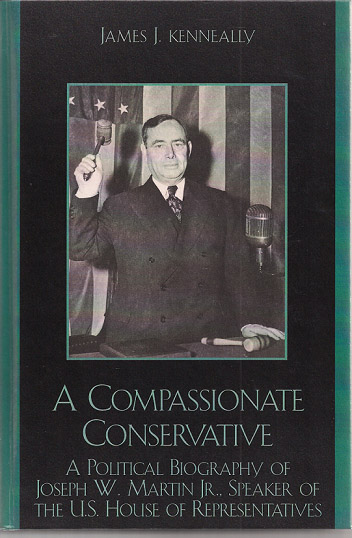 GREGORSKY: In the Introduction, you let down baby-boom readers like me, right at the outset. We long to know the "whole person," but you let fly a warning that "a traditional biography is not possible. Many of his papers have been lost, they were put into storage for possible housing in a Republican library in Washington that was never built, and have not been recovered. Of those that remain...there is no indication of a private life -- possibly because he had none. Even his diaries, which resemble appointment books, give no details of conferences or meetings, no descriptions of Washington personalities, no clues to his thoughts or motivations. He had no deeper existence than that conditioned by politics..." I guess you accepted that as sort of a "condition" and just plodded forward, or was this really depressing when that --
KENNEALLY: No, that wasn't depressing at all. I think Joe made, during his lifetime, major contributions to American politics, and to American society, and was deserving of a biography, even if you couldn't get all these little human details. There are other people I'm sure that have lived lives that they've kept as private, or just didn't live exciting lives, yet made major contributions.
GREGORSKY: Um-hmm.
KENNEALLY: And I think -- this really sounds corny, but I wish other people knew more about Joe. He was a man of integrity. Everyone I spoke to had tremendous admiration for his integrity; he was a man of his word. You'd think he was being considered for canonization. And we've had so much cynicism in terms of the way people approach politics and politicians, I think it'd be great if they knew more about Martin.
GREGORSKY: If you were to boil it down for a professor or other would-be author in their thirties or forties, what is the -- so to speak -- "lodestone" that someone should center on if they want to produce a biography of a political leader who is no longer alive?
KENNEALLY: Oh, that's a tough one [pause].
You just have to hunt all over the place, hoping to find papers: His papers, other people's papers -- people that knew him -- that's about all you can do! Obviously you can get a lot out of newspapers. But what you have to -- you know, one of the things that made it worse, too, is telephones, as more and more people began using them. From [Franklin] Roosevelt on, they were taping much of the phone conversations in the White House -- Roosevelt was the first I know of to tape 'em.
But what of Congress? All of those things occurred over the phone, and you're not sure that anybody ever took a note on them.
GREGORSKY: Yeah -- good point.
KENNEALLY: That makes it difficult. And obviously tracking down e-mails, nowadays -- even with the instructions to an Administration's officials and staff how to save them -- makes it more difficult. For the historian, we've got more information, and less information, at the same time, than we ever had.
But -- I think it's a wonderful career, a great thing. It's satisfying individually, and I think it's worth doing. Particularly if your subject is somebody like Joe.
When I began, Joe was a Congressman from Massachusetts -- and I ended up with a great deal of affection and respect for him. Although [being a loyal Democrat] I probably never would have voted him, except -- I believe it was -- in the 1940 campaign when he was attacked for being too liberal. But that's beside the point [laughter].
© 2011, James J. Kenneally and Frank Gregorsky
Contact Jim Kenneally via JKenneally@stonehill.edu
______________________________________________________________________________________________
Return to ExactingEditor.com front page
NOTE: We expanded this Author Profile to include Kenneally's 1990 book, which will interest a web readership different from the GOP one. In fact, that part of the Q&A deserved its own document -- www.ExactingEditor.com/CatholicWomen.pdf